About Us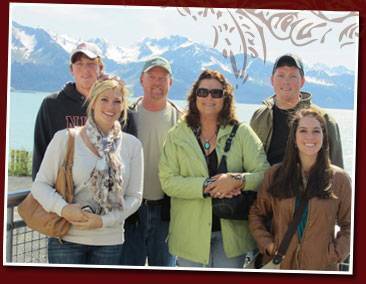 Thank You for visiting our website. We are Paul and Cynthia Grafe. We have three children Richard, Stephanie and Phillip who have been involved in agriculture their entire lives and are now in various stages of completing their education at Texas A&M University. They come by this naturally as Cynthia was raised on an 800 cow dairy operation in Stephenville, Texas and Paul raised and showed cattle and hogs as a youth.
As a family we were introduced to the goat industry in 1993 with the purchase of 8 Angora goats. That herd grew and was developed into one of the best Angora herds in the country. The idea was to breed and develop an Angora goat that combined the traits needed for all spectrums of the industry. This was accomplished and many Champions followed at the major shows in Texas.
ln 2007 we purchased the small ranch we now call home, on the Guadalupe River near Sisterdale, Texas. It was a time of change so we sold the entire herd of Angora goats and decided to take on a new challenge of raising Boer goats. Again we started with a small group and are selectively growing from there.
It didn't take long to see that there are differences in the industry between the registered breeders and the wether goat breeders. This difference has become our challenge. We plan to develop and breed a complete goat. A registered goat that can compete and win both at wether goat shows and breeding goat shows.
About Our Goats
The base genetics of our doe herd are from Connie Ross, Agnew Boers, Oakridge Farms (Billie & Sherri Hall), Kelly Meat Goats, and new additions from Schafer Farms, No Step Ranch, Silvergate Farms, and N&K Ranches.
The does have been bred this year to our bucks: Schafer B171 "Pure Power" and Henkhaus B2098 "Little John",
TLB Y9020 Leonidas and 2Dox Cuger.
The base of our doe herd are out of Ripper bloodlines from Hot Commodity, and 9020. We also have several does out of wether sires from Blindside, Wizard, 900, and Tommy. The list of reference sires shows some of the bucks we have been breeding to. It doesn't show all the bloodlines we have purchased.
We have been adding Blindside, Wizard, 900, Schafer A90 and Chucky Monkey bloodlines to our herd. We are continually upgrading our goat herd with wether sires to bring the top shape, rib shape, wide loins, and lots of muscle. On top of that, we are experimenting with the Ibex and Myotonic influences in the boer goats. Come and check out our goats.
Visit our Bucks and Does Pages or you can contact us for more information on us or our goats.